MMS Marketing and Notification System
MMS Marketing ● List Notifications ● Scheduled Texting ● More!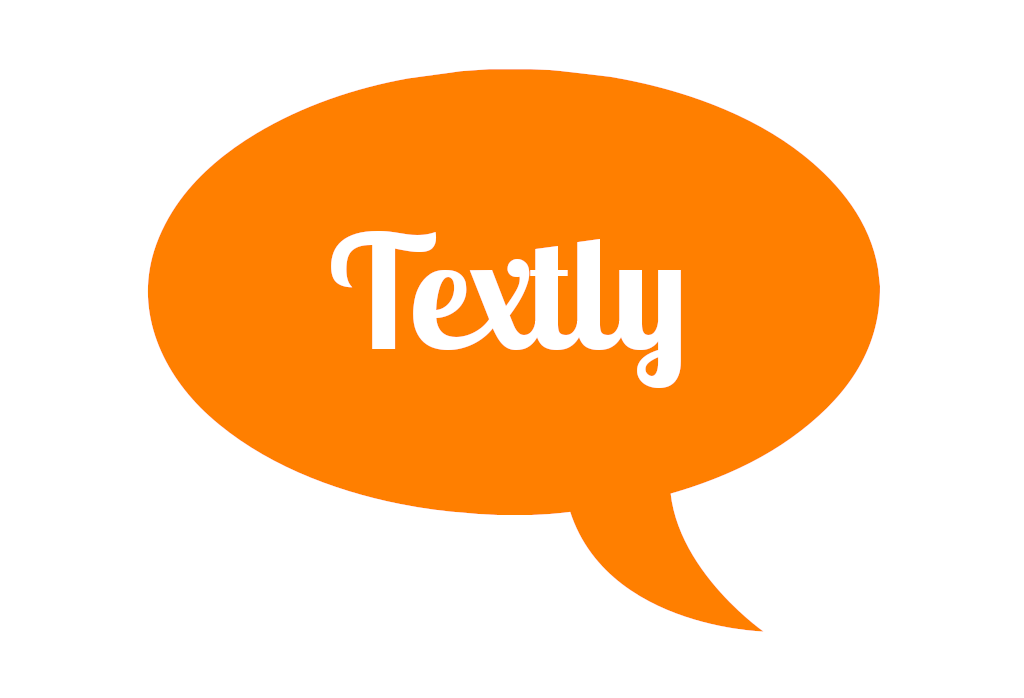 Textly© for Marketing
Textly© offers an easy-to-use interface for sending MMS messages to existing and potential customers. People can sign up to your list with a simple text message, and from there the sky's the limit. MMS marketing averages close to a 10% click-through rate, as opposed to just 2.5% when using email marketing.
Other Uses
Textly© is limited only by your imagination. Typical usage includes:
Room-ready notifications for lodging businesses.
Table-ready notifications for restaurants.
Notifications for organized sports teams.
Scheduling notifications (e.g. meeting postponed, fireworks cancelled, movie night tonight at 7 p.m.).
Emergency notifications.
Features
Textly© offers a host of features, including:
Unique phone number (only $5/mth).
Forward incoming messages to cell phone.
Chat interface.
Scheduled text messages.
Rich text messages.
Messages with images and other attached files.
Sign-up auto-replies.
QR code generation.
Saved templates.
Contact/list management.
More!
Getting Started
If you are interested in Textly©, please email us with some details of what you are looking to accomplish. We usually reply the same day.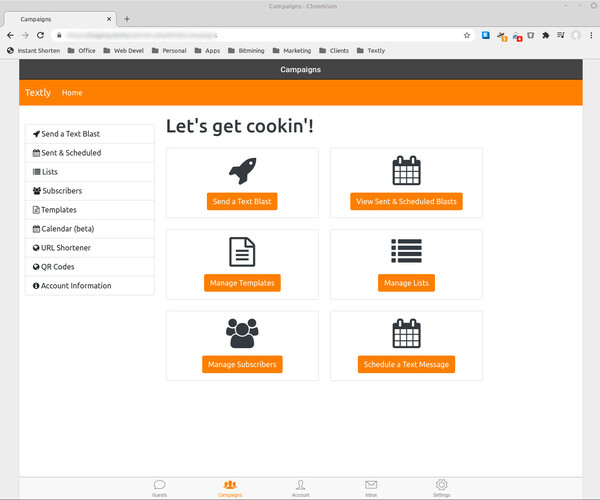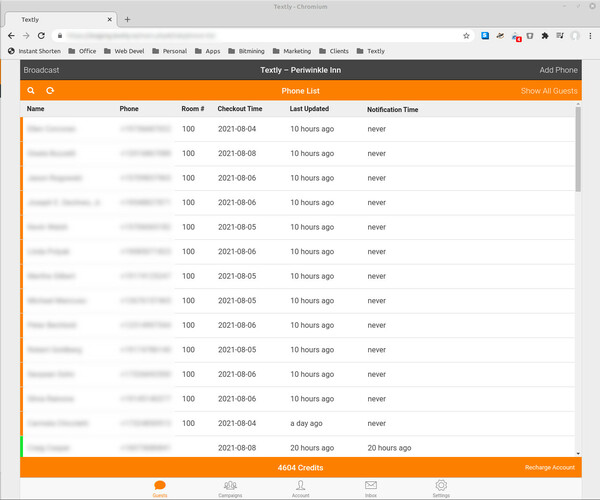 Pricing
With Textly©, you only pay for what you use. With our simple and affordable pricing, any size business and even individuals and hobbyists can find a plan that fits their needs as well as their budget.
10 Cents per Credit
$
10
100 Credits
Choice of Phone Number
Unlimited Lists
Unlimited Contacts
Campaign Management
Detailed Reporting
Schedule Messages
Campaign Message Templates
Canned Notifications
Two-Way Chats
Checkout Auto-Reminder (Lodging)
Start Free Trial
7 Cents per Credit
$
35
500 Credits
Choice of Phone Number
Unlimited Lists
Unlimited Contacts
Campaign Management
Detailed Reporting
Schedule Messages
Campaign Message Templates
Canned Notifications
Two-Way Chats
Checkout Auto-Reminder (Lodging)
Start Free Trial
6 Cents per Credit
$
60
1000 Credits
Choice of Phone Number
Unlimited Lists
Unlimited Contacts
Campaign Management
Detailed Reporting
Schedule Messages
Campaign Message Templates
Canned Notifications
Two-Way Chats
Checkout Auto-Reminder (Lodging)
Start Free Trial
5 Cents per Credit
$
100
5000 Credits
Choice of Phone Number
Unlimited Lists
Unlimited Contacts
Campaign Management
Detailed Reporting
Schedule Messages
Campaign Message Templates
Canned Notifications
Two-Way Chats
Checkout Auto-Reminder (Lodging)
Start Free Trial
4 Cents per Credit
$
400
10000 Credits
Choice of Phone Number
Unlimited Lists
Unlimited Contacts
Campaign Management
Detailed Reporting
Schedule Messages
Campaign Message Templates
Canned Notifications
Two-Way Chats
Checkout Auto-Reminder (Lodging)
Start Free Trial
3 Cents per Credit
$
600
20000 Credits
Choice of Phone Number
Unlimited Lists
Unlimited Contacts
Campaign Management
Detailed Reporting
Schedule Messages
Campaign Message Templates
Canned Notifications
Two-Way Chats
Checkout Auto-Reminder (Lodging)
Start Free Trial